Filipino boxing champ Manny Pacquiao recently came under fire from the LGBT community and its supporters for supposedly likening gays to animals. Although he has already issued an apology over the issue and was dropped by Nike, talks have not yet died down.
In a phone patch interview with Karen Davila and Vic Lima on DZMM teleradyo program Pasada sa Sais Trenta, he admitted that he made a mistake by comparing humans to animals.
Although the interview started out with pleasantries and the boxing champ revealing that he had nothing personal against LGBTs and even has LGBT scholars under his programs and hsa gay nephews, things were not entirely comfortable throughout the interview.
The boxing champ was unfazed when told that LADLAD partylist will be campaigning against him, saying that everyone has the right to choose whom they will vote for because he was only telling what he felt was true.
He reiterated that this was only his opinion and that he does not condemn the LGBT community. He clarified that he was only talking about their actions (in the bedroom) as something that is not pleasing in the eyes of the Lord.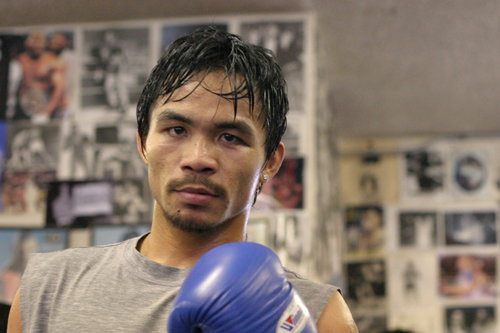 Karen then asked Manny whether he has already heard the phrase "the separation of the Church and the State."
Manny replied in the affirmative but pointed out that "it is impossible for a nation to become successful or to be blessed without the guidance of Lord." He added, "It is impossible for a nation to have peace and unity if we don't have God."
Manny even said that he has no problem giving his approval to a same-sex couple adopting a child, but he does not approve of them getting married because he feels that marriage is a sacred ritual before the eyes of God and doing so with the same sex is a big insult to the Lord.
He also pointed out that it was such sins that caused the Lord to destroy Sodom and Gomorrah.
At this point, Karen asked, "Manny, should you be a senator or should you be a pastor, especially considering that we are in the 21st century?"