From a newbie-actress-turned-Darna to the first-ever Filipina Golden Globe nominee, reasons to be proud of being a woman came aplenty last year, serving huge doses of inspiration to push forward the "female" agenda in 2023.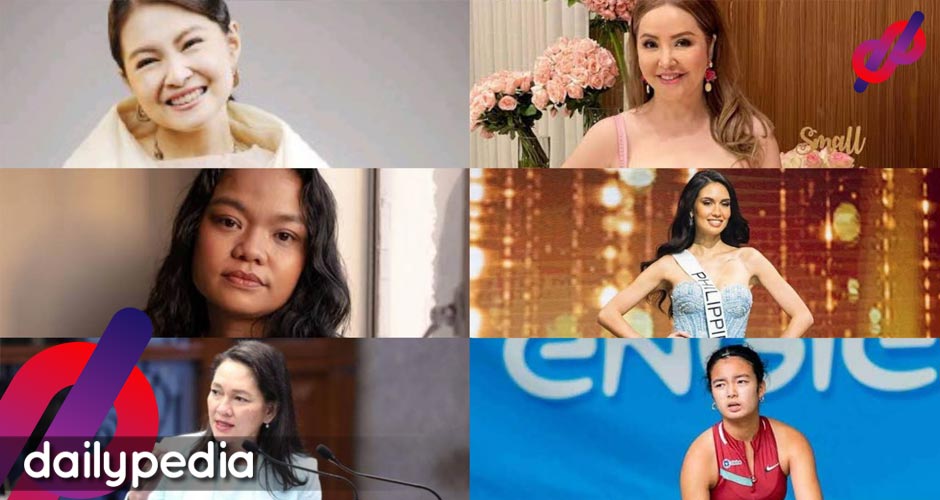 Who runs the world?!
Despite the fact that "girls" are not always the answer, in many parts of the world, strong women have somewhat tipped the balance and achieved some sort of gender equality.
Just last year, the Philippines saw the emergence of strong, feisty, empowering women. These women's incredible stories of survival, faith, growth, and courage will inspire dreamers of any gender and genre.
These exemplary women and the inspiration they serve, are likely to empower today's young women and drive them to become the same, for future generations. They are an inspiration, an example to follow, and a sower of courage to be reaped by young dreamers who also aspire to create positive changes in their communities. 
Here are 10 Filipina women to inspire in 2023:
Alex Eala. The first Filipino Grand Slam singles champion.
Last September, Alex Eala became the first Filipino to win a junior Grand Slam singles championship. She is the only Filipino with multiple junior Grand Slam titles. As a 17-year-old, Eala is expected to further soar in the sport as she ranks 214th in the world.  She is now the highest-ranked Filipino female athlete in the World Tennis Association (WTA)'s history, surpassing Maricris Gentz, who peaked at No. 284 in 1999.
Barbie Forteza. The breakthrough star.
Forteza is undeniably one of her time's most underrated local actresses. Already more than a decade in the industry, Forteza was put through a sort of career resurgence via last year's 'Maria Clara at Ibarra' which is also one of the most remarkable and perhaps, most influential TV shows of recent times. Of course, one cannot dismiss the fact that the actress has made stellar appearances in various shows in the past. However, this one hit show she starred in, is her most successful to date. 
Dolly de Leon. The first Filipina Golden Globes Best Supporting Actress nominee.
The time has come for Dolly de Leon to conquer the global stage. Signs have been clear she's all set to make bigger milestones in Hollywood, when she got cast as one of the major supporting cast members of the film, Triangle of Sadness.
After scoring a Best Performer win from the Los Angeles Critics Association last year, she went on to secure more international nominations, the most prestigious of which being the country's first-ever "Best Supporting Actress" nomination at the Golden Globes. Just recently, she got announced as one of the main cast members of Amazon Studios' original film, 'Grand Death Lotto' in which she is set to star with John Ceña, and Simu Liu, among others.
Chai Fonacier. She starred in her first internationally-produced film.
Aside from portraying a minor yet important and remarkably-played character in the Kapuso historical portal fantasy drama, 'Maria Clara at Ibarra' last year, Fonacier got cast in the Filipino-Irish film, 'Nocebo', where she starred alongside Hollywood stars, Eva Green and Mark Strong.
Through the film, Fonacier was able to showcase not just her exemplary acting prowess, but also the distinct Filipino culture and traditions. Her journey to star in her first internationally-produced film shows how unique and empowered Filipinos are.
Celeste Cortesi. Miss Universe Philippines.
It's rare that a Filipino delegate who lost in the Miss Universe, to get the spotlight post-competition. Cortesi proved that she's an exception as she gracefully navigated her way from her beauty pageant phase to mainstream showbiz. Late last year, she officially entered acting when she appeared in a cameo role, on Darna's finale episode. Other than that, Cortesi continues to inspire with her story of resilience, beauty, and grace, which she hopes to share with a much bigger audience as she makes further steps into showbiz.
Jane de Leon. ABS-CBN's first Darna.
While Darna, itself, cannot claim to be a successful show, its lead star, Jane de Leon, is no doubt a resounding success. De Leon's life story and journey to get to where she is now are a source of inspiration.
The young actress started with minor roles in movies and television but is now one of the fastest-rising television personalities of her time. With multiple current brand endorsements and upcoming big projects underway for her, one can say that playing Darna truly created wonders for her career.
Kathryn Bernardo. Phenomenal Box Office Queen.
Bernardo got announced to star in two exciting films, ones seen to put her film career in a more mature and experimental direction. Already her generation's biggest female star, Bernardo owns the distinction of being the only actress to top bill the two highest-grossing Filipino films of all time, 'The Hows of Us' in 2018, and 'Hello Love, Goodbye' in 2019.
Her status as one of the local entertainment scene's biggest A-listers got further affirmed this week, with the announcement of her two projects, the historical action drama, 'Elena 1944′, and the dark-comedy, 'A Very Good Girl' in which she will star alongside Golden Globe nominee, Dolly de Leon.
Nadine Lustre. Multi-award-winning actress.
'Deleter' almost swept all categories during the awarding ceremony of the 47th Metro Manila Film Festival, a movie in which Lustre starred. Now one of the actresses of her generation, making the Best Actress wins, Lustre continues to inspire with her incredible poise, glamour, dedication to work, and her sense of independence, which are truly the marks of a modern Filipina.
Risa Hontiveros. Philippine lawmaker.
Now one of only a few prominent figures leading the opposition in the Senate, Hontiveros continues to represent a voice that remains critical in ensuring the current government doesn't betray its people and mandate. Known for advocating pro-Filipino legislation and changes in the government, Hontiveros seems poised to play a very important role in Philippine politics in the future.
Small Laude. Socialite and successful entrepreneur.
It's rare for a socialite and an ultra-wealthy businesswoman to be relatable with common folks. Small Laude, however, is a solid testament to crazy rich people being accessible to the masses. Thanks to her Vlog, Laude can reach, and inspire, audiences from all economic demographics, including those who are currently working their asses off to get to where Laude is now.
Blessed to have married a business tycoon, Laude practically built her own fortune by working non-stop in her family's business empire.
Who among these women inspires you the most? Head to the comment section to share your thoughts on this article.