Brush the negativity away and have a fresher, braver outlook so you can move forward and reach your dreams through listening to these songs.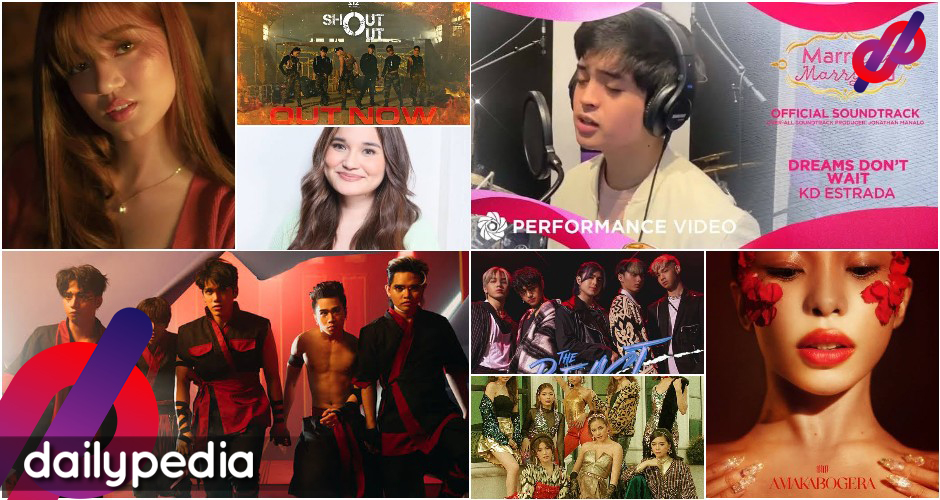 The incredible power of music has moved people towards attaining peace of mind, their dreams, and even achieving miracles for ages. It's no question that music is therapeutic; it inspires broken hearts, motivates weakened resolves, and directs people towards a better direction. 
There have been songs whose transformative power remained affecting even after decades, with some even being revived multiple times by different artists. New songs, however, continue to be made. 
They may carry different tunes, but they remain potent movers.
In the past few months, we've heard some of these songs make their mark. Here's why we think you should add them to your playlist. 
Below are eight new songs that fit the 'healing' and 'inspiring' type. They can make you dance, too!
Amakabogera, Maymay Entrata.
This statement track is the anthem for the feisty and bold. "'Di ko kailangang sumabay pa sa uso. Ako'y magiging ako na aking ginusto" it says, leaving a reminder that you are unique, beautiful in your own way, and that's always enough. It's a way to beat the standards and set your own.
Bazinga, SB19.
SB19's Pablo wrote this track with the intent to express how the group brushes away their detractors and bashers, so it just makes perfect sense that it sounds as if it can be your #Unbothered anthem. "Last time, I thought I already told you that I'm always ready. Come on and test me, you know nothing's gonna stop me. Bring it all out now" one of its lines dared, declaring preparedness to shrug all the negativity off.
The Beast, VXON.
The Beast sounds like an open invitation to let go of all your inhibitions and to just put on a good show. "Tonight, the flaming desire has started. You can't hold me back, eyes dilated. Time to let go and put on a show" it says, telling you that you and you alone, can direct your life to where you want it to be. "Who's the king? Who's the boss?" it asks, in a tone that suggests it's no one but you. So take the reins and make it happen. Unleash the beast!
Dreams Don't Wait, KD Estrada.
The words of this track are a self-esteem booster that gives its listeners the extra push to continue forging forward and to their goals. It reminds you not to let the bad comments ruin your momentum, and it promises that the steep and rough roads are temporary. "'… storms don't last, days comes fast. Dreams don't wait; go get it" it says.
Golden Arrow, BINi.
This 'golden' track delivers a simple but strong message: your time is yours, and it's for you to make the best of it. "Now it's my time to face my way through. With this golden arrow ain't ever be wasted. Yeah, I'm pushin' and pushin' when I'm on the edge, huh. Fightin' and fightin' 'til I got nothing left" one of its compelling verses shares, which pretty much affirms your need to just push through in life and make every second count.
It's Okay Not to be Okay, Angela Ken.
"It's okay not to be okay sometimes. But ain't it okay to be not okay all the time" this easy song reminds, telling its listeners to take a break from the heartbreak sometimes. It's a hopeful track that validates your disappointments and feelings of despair, but one that also encourages you to move forward. "Tomorrow's another day" it says as if assuring you you've got another shot to make things better.
Rise, Belle Mariano.
Rise is a powerful motivational track. It says you can do it, regardless of the obstacles along the way. "Even when I'm told no, I don't take that for an answer…" it declares, telling you to never quit and just move forward. And of course, it's Belle Mariano's song; just her earworm vocals alone makes the song inspiring enough.
Shout Out, 1st.One.
"Welcome to the jungle, watch out! You know, you're in trouble…Isantabi ang 'yong mga alinlangan, lakasan Na parang veteran" says one of this danceable P-POP anthem, which can be pretty well taken as an invitation, a warning, and also a motivation. It drives you to just go with the flow, do your best, and just move forward until you reach your dreams.
Which of these tracks are already on your playlist? Did your faves make it on the list? Don't forget to share your thoughts in the comment section.