The Philippine Institute for Development Studies (PIDS) recently published a report (January–March 2020 • Volume 38 (1) • ISSN 2508-0857) that reveals senior high school students "can
barely write in English".
The consultant of the corporation, Karen Brillantes, explained this conclusion during the Public Seminar on Reforms in the Philippine Education Sector which was held at PIDS.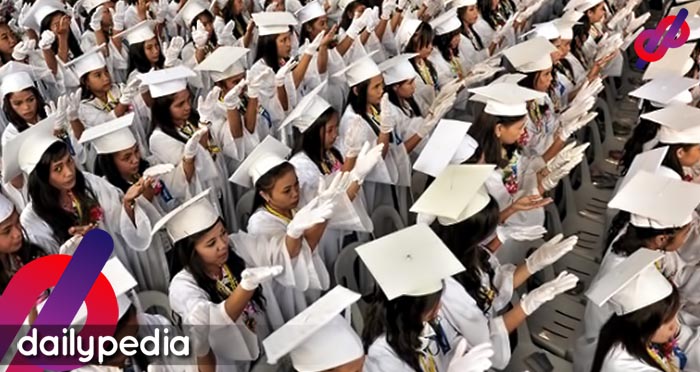 Brillantes pointed out that this will prove to be a huge obstacle when the time comes for the students to "produce research papers to pass a course."
"How do you make them write a research paper if they do not even have the basics?" asked Brillantes.
Students nowadays only do assignments for the sake of passing their subjects, which does not help them with getting the most from SHS education.
It is fair to say that the current SHS curriculum caters more towards "advanced learners in the urban setting, such as science high schools in Metro Manila" which Brillantes thinks is 'too ambitious'.
This, in turn, will make most students find themselves unprepared for whatever is given to them to study.
"This leads to another layer of problems, such as the difficulty in contextualizing activities further worsened by a lack of resources.
"For instance, while SHS curricula have computer literacy subjects, not all junior high schools have computers, which make it difficult for these students to adjust to the SHS level of discussion," the entry said, which makes the student enter a state of 'culture shock' when entering SHS.
Teachers are also having a hard time "delivering the curricula due to insufficient guidelines, inadequate materials, and preparation."
"Sadly, their students are the ones bearing the brunt of the implementing agency's lack of preparation."
More students are advocating for less class reporting because this makes them feel like they teach more than their teachers.
The difficulties faced by students can be eased up by having them participate in sports or art classes.
"On top of their regular academic programs, the athletes, for instance, still need to join different activities, such as sports competitions, to expose them to opportunities outside SHS," said Brillantes.
Unfortunately, students who identify themselves more as athletes or artists feel like most would label them as individuals who are on a lower level of intelligence due to their interests.
"They feel that people think they are not smart enough because they are in the sports or arts track."
Brillantes wants the Department of Education to do something about it.
"DepEd should help them understand why there has to be different SHS tracks, as it is currently unclear to both the students and the teachers, leading to bias against those pursuing sports and arts tracks,"
98% of SHS institutions don't actually have sports and arts tracks activities to offer students. In addition, both the sports and art tracks are the least prioritized tracks by the DepEd.
"Many students fail to enter the strands they like simply because of the unavailability of tracks at provincial and regional levels,"
"The choice should be aligned with the interest of the student given that the SHS program was supposed to put premium in the student's choice," she added.
The qualities of human and learning resources, school buildings, facilities, tools, and equipment of SHS institutions still lack in many aspects.
"DepEd's human resources, especially teachers, have been its biggest asset in the implementation of SHS, hence they should be better equipped and supported in delivering the curriculum."
Brillantes also wants DepEd to work with the Commission on Higher Education and the Technical Education and Skills Development Authority to work on policies that still cause a lot of confusion with a great number of individuals.
The problems mentioned are nothing new, and they are expected since the SHS is still in its infancy.
"Certainly, the SHS program is facing many challenges, which hopefully are mostly mere birthing pains that can be addressed as soon as implementation procedures continue to stabilize and take root,"
Teachers nationwide shared their thoughts on the matter.
"I'm a secondary school teacher for more than a decade until I decided to work abroad. The real issue there was the students' educational foundation. It started in homes (parent factor) plus other influences. We can't deny the fact that one of the reasons is the teacher's follow-up and lack of support systems especially in the far flung areas. Poverty is another issue. At the end of the day, it would definitely reflects as to what have we done?"
"I'm also a teacher. Most teachers spend their time doing paperworks required by DepEd. The actual drills and practical lessons are somehow no longer prioritized."
"My heart silently breaks because of this. I have been telling this to my students as one of the reasons why I'm being particular with them learning how to read and write paragraphs so that they can be able to express themselves fluently in both oral and written language. Their eyes are wide open but their ears are definitely closed."
"This is absolutely TRUE. In my 30 years of existence, I encountered many students who can't even construct a sentence in English. Our public education system is really hopeless."
Students also agreed that most of their classmates can't comprehend the medium on a basic level.
"As an SHS student, I could attest that it is true that there are students who could barely write a sentence, let alone have precise grammatical skills to be competent. But the problem is on both sides. On the part of the teacher, he might have skipped an important detail; on the part of the student, he might have lost interest in the topic and on education itself in general. In my humble opinion, we must rekindle the love for reading not only in our students but also in our teachers so that meaningful and productive discussions are encouraged. I firmly believe that education is a two-way process, if one of the stakeholders lack something the process fails, and so a meaningful discussion is always preferable for it allows both the teacher and the student to learn something from one another."
"I am an SHS school student and the ability of my co-SH students in constructing a simple sentence is vivid. I only noticed a few who can really construct a sentence correctly. However, in my humble opinion, there are many factors that seem to cause the students to lack such capacity. One common factor is poverty. Those SH learners who can't go to school daily can miss lessons that are necessary and relevant. I would just say that our education here in the Philippines is hopeless. It is not the government or the teachers to blame, but the students themselves. If they are willing to learn and reach their dreams, they will find ways and defy every hindrance on the way. That's it, simple."