Restaurant owner says Big Bang is better than BTS
Owner gets criticized by the ARMYs
ARMYs went on yelp and gave the restaurant low ratings.
BTS is without a doubt, the biggest boy band in Asia, and arguably in the world today.
They have millions of followers that are called ARMY. The ARMYs will go out of their way to defend their most beloved idols.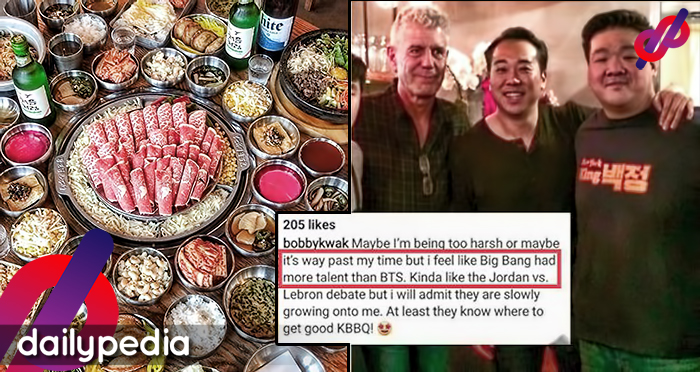 There has already been one instance when the ARMYs got a real estate agent fired in defense of BTS.
Recently, BTS was in New York and visited a Korean BBQ Restaurant called Kang Ho Dong Baekjeong. It was also reported that Jungkook, one of the members of BTS, is a fan of Baekjong's sister restaurant in LA.
https://www.instagram.com/p/BwfuEBtFul8/?utm_source=ig_embed
This restaurant is highly regarded as one of the best in its category, getting high ratings ever since its opening. Celebrities are even commonly seen dining there.
But when co-owner Bobby Kwak compared the BTS to another K-pop group Big Bang, the ARMYs were none too pleased.
In an Instagram post, Kwak said, "Maybe I am being too harsh or maybe it's way past my time but I feel like Big Bang had more talent than BTS. Kinda like Jordan vs. Lebron debate but I will admit they are slowly growing on me. At least they know where to get good KBBQ."
The ARMYs immediately went on Yelp and gave the restaurant low ratings.
Some ARMYs accused the restaurant of setting up hidden cameras and filming people, including celebrities, without consent, something which management denied.
https://www.instagram.com/p/Bxz8shGAnRJ/?utm_source=ig_embed
Kwak, in a new Instagram post, apologized saying, "Just want to apologize to BTS and all the BTS fans out there. The video taken yesterday was not done by Baekjeong the restaurant but by myself personally while I was eating there. There are no hidden cameras and I take full responsibility. I got starstruck. I hope all the fans and the members of BTS will be forgiving and know it was done with zero malice."