A 61-year-old Nebraskan woman gave birth to her own grandchild, acting as surrogate for her son and his husband
It was a joint-family effort to bring Uma Louise into the world
When Matthew Eledge and his husband Elliot Dougherty decided to expand their family, Dougherty's sister Lea Yribe offered to donate her eggs
After a two-year process, a woman gave birth to her own granddaughter on March 25 to provide her gay son and his husband a child and jump-start their own family.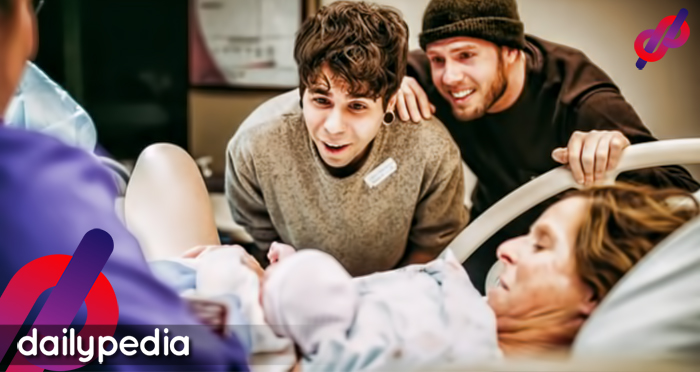 Cecile Reynek Eledge, 61, delivered a healthy baby girl at the Nebraska Medical Centre in Omaha, Nebraska.
According to Buzzfeed News, Cecile immediately offered to become a surrogate mother when her son Matthew Eledge and his husband Elliot Dougherty, told her they wanted to start a family. From there, the child's conception was done in a joint-effort between the families Eledge and Dougherty.
Through the process of in-vitro fertilization, Matthew gave his sperm and the eggs came from his husband Elliot's 26-year-old sister, Lea Yribe. Three viable embryos came of the process and one was implanted in Cecile's womb. Despite her senior age, she was still able to become pregnant on the first try.
Uma Louise Dougherty-Eledge born at 6:06 a.m. on March 25th 2019 weighing 5 pounds 13 ounces. Life is a dream.photo credit Ariel Panowicz Ariel Panowicz Creative

Posted by Elliot Dougherty on Monday, March 25, 2019
Cecile told USA Today that she was joking about the whole ordeal at first, but after passing a series of tests on her heart, cholesterol, and stress levels, the doctors told her that everything was in her favor. Cecile then took estrogen so she could get her period again, even if she was postmenopausal.
"I've just had a real love for her all my life, and now this is even more special," Cecile's husband Kirk told Buzzfeed, praising his wife's willingness to go through pregnancy again.
"When you are gay and married and want to have a kid, you go into it with knowledge that you are going to have to create a family in a special way. There are creative, unique ways to build a family," Matthew Eledge told CNN, after seeing his healthy daughter for the first time.
The decision to go through IVF was not taken lightly for Matthew who works as a teacher, and Elliot, a hairdresser. They had to consider the costs and the time it would take. The two did consider adoption but Nebraska has no state laws banning discrimination based on sexual orientation.
Though gay marriage has been legal in the state since the landmark Supreme Court decision in 2015, same-sex couples were allowed to become foster parents only, two years ago.
"I had a lot of people in college say they would (carry and deliver a child), but when push comes to shove, that's a huge commitment," Matthew remarked, amazed at his mother's actions and sacrifice.
He expressed his gratitude for her and his sister-in-law, saying: "More than anything, we feel lucky to have women selfless enough to do this."
"We love women — we think women should rule the world," added Matthew. "Our daughter, Uma, gets to be surrounded by all these smart, beautiful, compassionate women."
Matthew wrote on Facebook while posting a picture of Uma Louise sleeping on his chest: "This is bliss. Not sure I deserve the joy I'm feeling right now, but I'll take it."
A week after their daughter's birth, his husband Elliot wrote on Facebook as well: "Happy one week earth side, Uma Lu. I can't believe I've only known you for a week. My love and bond to you already has deep, deep roots in my soul. Last night I held the hat we put on you when you were born. I had tears in my eyes as though I was holding a nostalgic belonging from long ago. Such profound love. Such deep gratitude."