Raffy Tulfo is against his brother Ramon Tulfo's viewpoint that Chinese workers are better than Filipinos
Raffy urges eldest brother to apologize and prioritize Filipino laborers' rights
'Not in a million years,' says special envoy to China Ramon on apologizing, for criticizing the local workforce
Raffy Tulfo clashes with brother Ramon "Mon" Tulfo Jr. and urges him to apologize over his remark belittling the Filipino labor force, especifically construction workers over their Chinese counterparts.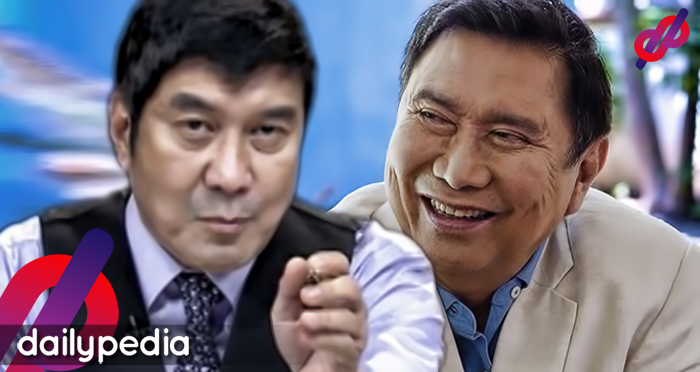 Radio and TV broadcaster Raffy Tulfo was against his brother Ramon Tulfo's views. According to the former, it does not mean that just because they share the same blood in their veins, that they hold the same belief over the said issue.
For Raffy, companies abroad look to Pinoy workers because they are known to be patient, hardworking, and obedient.
The broadcaster said that his brother's controversial remark is baseless, and that the special envoy to China has no idea on what he's saying.
It is known that Raffy's popular radio program 'Wanted sa Radyo' helps laborers with conflicts and issues they encounter at work. With this in mind, he requested for Mon to prioritize Filipino worker's rights over those of the Chinese's.
He even asked his elder brother to apologize to the Filipino workers. "Kuya Mon if I were you, nakakatandang kapatid ko, if I were you, please apologize. I think that's the right thing for you to do," Raffy said. "I really disagree with you. As a matter of fact, [the] construction workers [whom you degrade, they are the ones who made the surname Tulfo a byword] from the very start. Sila ang kakampi natin dahil from the very start [and they are our] followers."
It was earlier reported that the older Tulfo stated in CNN Philippines' On the Record: "Alam mo bakit nila preferred, 'yung mga developers, 'yung mga Chinese worker? Masipag. 'Yung mga Pinoy worker, mawalang galang na, 'pag pupunta sa job site tsaka lang dun magpe-prepare ng kanilang tools, whereas 'yung mga Chinese preparado na."
It should be noted that presidential spokesperson Salvador Panelo defended Ramon's view for merely utilizing freedom of expression. "Everyone is entitled to make his opinion on any matter concerning the country or the people or anybody," he said.
Currently, Malacañang has no plans of giving Ramon Tulfo any disciplinary action. And the man even vowed not to apologize, 'not in a million years,' he claimed in his op-ed piece in The Manila Times published this Thursday.
To the Filipino construction workers: Why should I apologize to you for telling the truth that you're basically lazy and a slowpoke? Does the truth hurt?

— Ramon Tulfo (@RamonTulfoII) March 9, 2019
Oh my, I kicked up a storm on my statement that Filipino workers in this country are lazy! TUCP wants me to apologize. Labor Secretary Bebot Bello, as can he expected, takes exception to my comment. Read my column at The Manila Times tomorrow why I will not apologize.

— Ramon Tulfo (@RamonTulfoII) March 10, 2019
Somebody at the Palace fed the President the wrong information about Alexander Balutan, former PCSO general manager. Now, the Palace is backtracking that he was not fired, but that he resigned. Poor guy! Damage has been done.

— Ramon Tulfo (@RamonTulfoII) March 11, 2019
He wrote: "NO, I will not apologize for my statement that Filipino construction workers in the country are being outdone, outstripped, and surpassed by their mainland China counterparts who mostly have no work permits. Not in a million years! The Trade Unions Congress of the Philippines (TUCP) wants me to apologize for my comment… Even my dear brother Raffy has gotten into the act by blasting me on his populist show, "Wanted sa Radyo," Monday afternoon. But the TUCP, Secretary Bello and Spox Panelo and Raffy Tulfo missed my point."
Even as his remarks continue to draw condemnation from netizens and the labor sector alike, Ramon still tweeted, "To the Filipino construction workers: Why should I apologize to you for telling the truth that you're basically lazy and a slowpoke? Does the truth hurt?"
To those who have been bashing me: Read Jose Rizal's essay about the indolence of the Filipino in his time. Thank you!

— Ramon Tulfo (@RamonTulfoII) March 11, 2019
He even mentioned Rizal to further drive his point home: "Read Jose Rizal's essay about the indolence of the Filipino in his time. Thank you!"