SWS quality of life poll falls to its lowest after four years.
This resulted to 28 percent net gainers and 30 percent net losers.
Filipinos whose lives have improved are now less than the number of Filipinos whose lives have worsened. Social Weather Stations' (SWS) quality of life survey has hit its lowest point for the first time since the first quarter of 2015.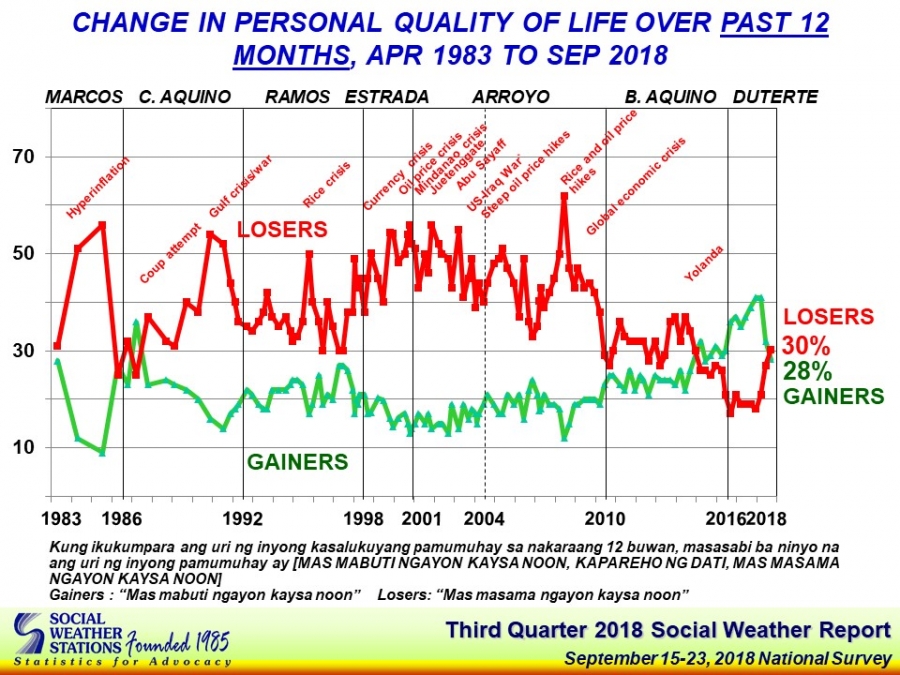 The survey was conducted last month and results showed that only 28% of Filipino adults said that their lives have improved (gainers) while 30% said that theirs worsened.
This resulted to the country hitting a Net Gainer's score of -2 during the period, which is classified as "fair". The lowest score in history was back in September 2014, when it hit an alarming -8. Not only that, this is also the first time Net Gainers get a negative score after 14 executive positive outcome, starting first quarter of 2015.

The -2 result represents a 7-point decline from the +5 recorded in June 2018.
SWS stated that the seven point decline was because of the declines in Mindanao, Metro Manila, and Balance Luzon. Net Gainers from Metro Manila stumbled from the +1 score last June, the lowest in the National Capital Region was -9 in December 2014.
Net Gainers from Mindanao also stumbled to zero after scoring +14 in June.
In Visayas, however, Net Gainers increased from -11 in June to net zero this September.