Netizen posts about a scam she experienced wherein she lost a huge amount of money.
One of the scammers is quite known as she has scammed a lot of people in the past. 
On October 8, a Facebook user named Victoria Garcia posted something regarding a scammer that has been going around. Victoria does catering and recently, she received a large amount of food orders from three different people, namely Cecile Leilani Palloran, Maria Charmaine Quirol, and Ron Bradley.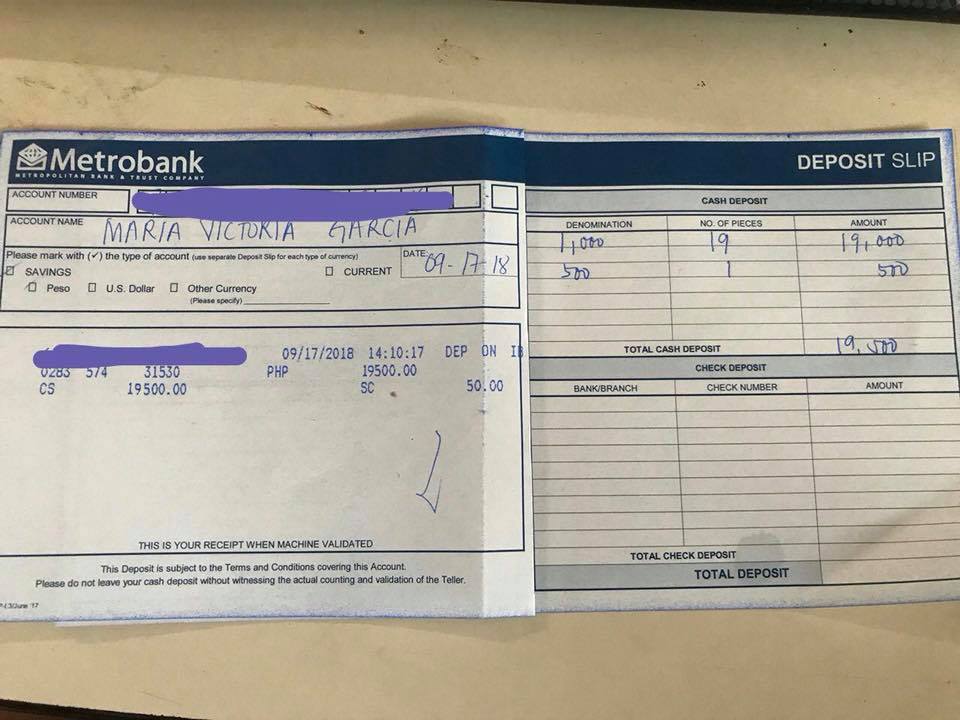 All of them sent the full amount of their payments which amounted to a total of over ₱50,000. They have also sent her the copies of their deposit slip in Viber and Instagram.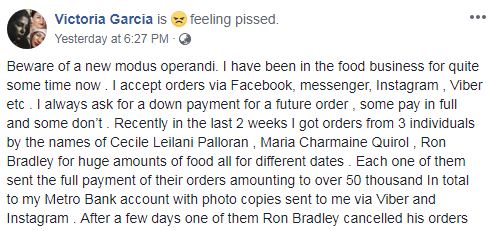 Beware of a new modus operandi. I have been in the food business for quite some time now . I accept orders via Facebook, messenger, Instagram , Viber etc . I always ask for a down payment for a future order , some pay in full and some don't .

Recently in the last 2 weeks I got orders from 3 individuals by the names of Cecile Leilani Palloran , Maria Charmaine Quirol , Ron Bradley for huge amounts of food all for different dates . Each one of them sent the full payment of their orders amounting to over 50 thousand In total to my Metro Bank account with photo copies sent to me via Viber and Instagram . 
All three of them started cancelling their orders for various reasons and wanted a refund, which Victoria immediately gave back.

After a few days one of them Ron Bradley cancelled his orders because he was leaving for Singapore so he asked for a full refund amounting to 19700 . I of course gave it back .

Then just last Friday the lady named CECILE LEILANI PALLORAN asked to for a refund of her first order of 17500 to be deposited to the account of MARIA CHARMAINE QUIROL because of some reason that their charity event was not pushing through .

Today this woman, can't call her a lady , demanded the rest of her money back amounting to just about 10000 to complete the 27150 she deposited coZ her son apparently contracted dengue .
As the sudden change made her feel suspicious, she went to the nearest bank to ask if there have been deposits to her account at the dates stated at the deposit slip. And there she found out that the slips sent to her were fake.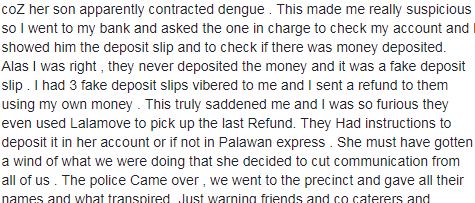 This made me really suspicious so I went to my bank and asked the one in charge to check my account and I showed him the deposit slip and to check if there was money deposited. Alas I was right , they never deposited the money and it was a fake deposit slip . I had 3 fake deposit slips vibered to me and I sent a refund to them using my own money .

This truly saddened me and I was so furious they even used Lalamove to pick up the last Refund. They Had instructions to deposit it in her account or if not in Palawan express . She must have gotten a wind of what we were doing that she decided to cut communication from all of us . The police Came over , we went to the precinct and gave all their names and what transpired.
One of the scammers named Charmaine Quirol, turned out to be notorious for what she does as she has victimized other people as well, including someone that bought gadgets from her which she never delivered.